USS Preble DLG-15/DDG-46


Webmaster - T. Bateman
gmm1 - 1979/1982







View My Guestbook Sign My Guestbook


---
[ Commodore Preble | Ships Named PREBLE | History | Ship's Awards | Decommissioning | Coontz Class Statistics ]
[ Commanding Officers | Crew Members | Photo Album | Looking For... | In Memoriam | Memorabilia ]
[ Nauticus | Sea Stories | DD-345/DM-20/AG-99 | DDG-88 News | Reunion Assn. ]
[ Where is DLG-15/DDG-46 | DDG-88 Plank Owners | Site Awards | Links & WebRings | Contributors | Updates ]
---
]

Early 1980's Bumper Sticker - Contributed by Barry Bengel

Links to Preble's sister ships
Links to the rest of the Cold War Era DDG's

Here are a few books you may be interested in...
(All sales originated from here help to support the website)





Purchases through this search engine help to defray the cost of maintaining this site.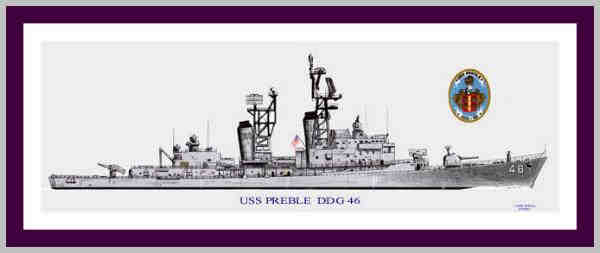 Want a great drawing of our USS PREBLE like the one above (or as DLG-15)? Then go to Ian Hall's website for the information. He is selling 100 numbered copies of the print, so get them while you can. I got mine within a week of sending the check. It's the most lifelike print I've seen of her and well worth the price. Ian now has Preble #4 in her DM-20 configuration if you're interested.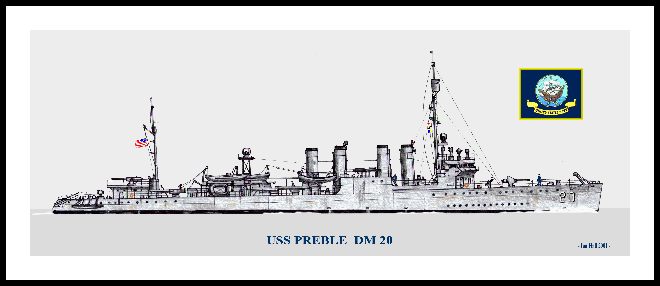 Looking for a Preble Baseball Cap (or any other ship you served on for that matter)? While it's not one of the original ones, this is a very nice cap that includes a silhouette of the ship on it. They can put either DLG-15 and DDG-46 on the hat depending on your preference. They go for $24.95 and can be found at militarygifts.com. You can also buy Polo Shirts, T-Shirts, Sweatshirts, and Satin Jackets with the same embroidery.





DISCLAIMER: This website does not reflect the views of the U.S. Navy or anyone other than myself. The contents of this website are the sole responsibility of the author and is not sanctioned in whole or in part by any agency within the Department of the Navy or Department of Defense. Any inaccuracies or omissions are the responsibility of the author and comments should be addressed accordingly.
This page was last updated on 09/25/2016
Copyright © 1997-2016 by Tom Bateman