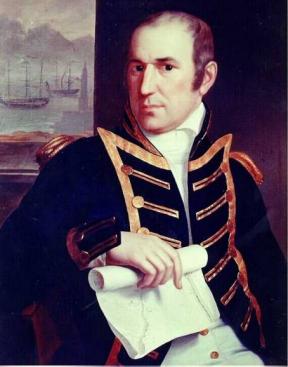 Edward Preble, son of Brigadier Jedediah Preble, was born at Falmouth (now Portland), Maine on August 15, 1761 and began his career at the age of sixteen when he ran away to sea on a privateer. Two years later, he was appointed a midshipman on the Frigate Protector and fought two engagements before being captured in 1781. The following year, after being released from the prison ship HMS Jersey, he became first lieutenant on the cruiser Winthrop. While on this ship Preble earned a reputation for undaunted courage and presence of mind. In one mission he led a boarding party to the capture of an anchored British brig at Castine, Maine, and escaped with her under hostile shore fire.
After the Revolutionary War, Preble spent about fifteen years in the merchant service. He was appointed as first lieutenant in the United States Navy in April of 1798 and the following January was ordered to command the 14 gun brig Pickering of the U.S. Revenue Marine (predecessor to the U.S. Coast Guard) in the squadron of Commodore Barry for protection of American commerce against armed French privateers in the West Indies. The Pickering was crewed by men of the U.S. Revenue Marine which made his situation unique as he was a Naval Officer.
Commissioned a Captain on 7 June 1799, he took command of the new frigate Essex in December. He sailed from New York in January 1800 to afford protection to American vessels engaged in China and Eastern trade and during this cruise had the honor of being the first naval officer to fly the American flag east of the Cape of Good Hope.
In 1803 Preble, on board his flagship, USS Constitution, sailed against the Barbary pirates as Commodore of a seven-ship, thousand-man squadron. In October of that year he established a peace treaty with the Emperor of Morocco, and then effected a blockade of the harbor of Tripoli. Preble and his Tripolitan campaign became one of the focal points for the development of the fighting tradition of the U.S. Navy. Not satisfied with a passive blockade, Preble attacked the harbor, which was well-fortified and defended by 25,000 men. In a series of daring raids, Preble's men caused severe damage and inflicted heavy causalities, a direct result of strenuous training and bold thinking. Preble's influence extended not only to events of his time, but also to the later successes of Stephen Decatur, William Bainbridge, Charles Stewart, Isaac Hull, and David Porter, all of whom served under his command at Tripoli. In 1804 Preble returned to the United States to supervise the construction of gunboats. He died on August 25, 1807 just 10 days after his 46th birthday.